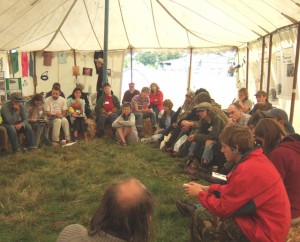 Peace News Summer Camp helps build a radical movement for the future by creating a living community today.
A family-friendly and renewably-powered camp from 30 July–3 August 2015.
What better way to spend your Summer Holiday than with the wittiness of John Hegley, getting out your abacuses for Accountancy for Anarchists, plotting to get rid of Trident, abolishing climate change, learning Pilar Lopez' songs from the Spanish Revolution, adding radical clowning to your campaigning skill set, brushing up your knowledge of Chomsky and revolution, learning the fine art of working out strategies to win, jiggling to Robb Johnson, taking part in a whole camp anti-oppression workshop, using social media for change, and listening to the poetry of Oliver Bernard and Adrian Mitchell? And it's all happening at this year's Peace News Summer Camp
We have: workshops and discussions, practical skills sessions,delicious vegan food cooked by Veggies, films, fun and DIY entertainment, a bar, campfires, and activities and facilities for kids and families.
Peace News Summer Camp has organised a taxi run from Shrewsbury station. Look for Comet Cars.

Eight-seater taxi from station to camp
THURSDAY 2.30pm & 4.30pm
FRIDAY 1pm & 4.30pm
SATURDAY 9.30am

Eight-seater taxi from camp to station
SUNDAY 2.30pm
MONDAY 1pm & 4.30pm
The camp costs £20–£100 depending on income. Payment can be made by cheque, online or by phone.
Food: (three meals a day and drinks) costs £6–£12 a day for over-14s, depending on income. This year, we are only selling food tickets at the camp itself. Individual meals will also be available, or you can self-cater.