Renowned US activist and trainer George Lakey will be co-facilitating a whole-day workshop on "Making Nonviolent Revolution" at this year's Summer Camp.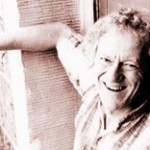 Co-founder of the Movement for a New Society – which for almost 20 years pioneered the forms of consensus decision-making , direct action and communal living that are now central to much of today's activism – George has led over 1500 workshops on five continents, training coalminers, homeless people, prisoners, Burmese guerillas, steel workers and others.
In addition to his sessions at Peace News Summer Camp, George will also be touring the UK from 16 – 30 July. See here for details.

Read the 3-part Peace News interview with George here.
Peace News have re-published George Lakey's Toward a Living Revolution. Get your copy here.